TI Tensile Structures
Tensile Structures Manufacturers in India.
( AN ISO 9001 : 2008 Certified Company )
About Us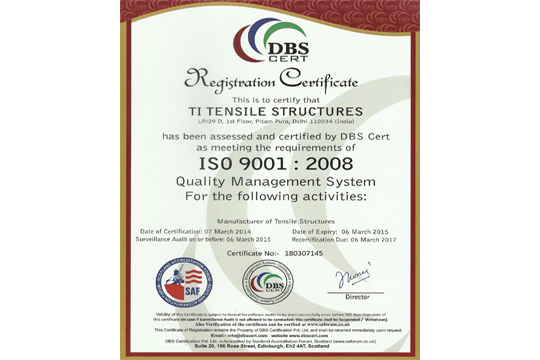 TI Tensile Structures is a custom manufacturer of not only Tension Structures, but also Car Parking Shades, Entrance Tensile Structures, Roof Tensile Structures, Tensile Canopies, Garden Gazebo, Garden Tensile Structures, Car Parking Shades, Entrance Structures, Promotional Tents, Military Shelters, Outdoor Shades, Camping Tents, Exhibition Hanger Covers, Auditorium Tensile Structures, Walkway Covering Structures, Commercial Shade Structures, Beach Tensile Umbrella, Modular Tensile Membranes, Indian Swiss Cottage Tents, Tensile Fabric Architectures, Awning, Pool Enclosures, Retractable Pool Enclosures, Swimming Pool Enclosures, Automatic Swimming Pool Safety Covers in Delhi, India.

Certified Channal partners with Megavent Technologies PVT LTD. We provide turnkey solutions for the Designing, Manufacturing, Installation and Servicing of all types of Fabric Structures, Enclosures, Auditorium Tensile Structures such as Auditorium Tensile Dome Structures, Auditorium Dome Structures, Auditorium Designer Structures, Auditorium Covering, Auditorium Tensile Covering, Auditorium Tensile Shades, Tensile Membrane Structures and many more. These offered structures are fabricated from quality assured raw materials and powerful technology keeping in mind the prevailing trends in this sector.

Tensile Membrane Structures have a very large market, Tensile being largely in use due to it durability and it easy maintenance, they are widely used in the recreation and industrial areas. Its elegant and aesthetic appeal comes with both durability and style. We are offering these fabricated piece using optimum Quality material and the most modern technology. It has many classy colour option with different colour pattern and are client specific. These structures are widely used in Stadium, shaded of the roofs in hotels, Airport more into commercial purpose.

TI Tensile Structures have been designing and installing Custom Tensile Structures for over a decade and have pioneered many of today's dramatic shapes and styles. Today, the company specializes in more technically demanding projects and applications which focus on form and function utilizing high tech PVC and PTFE Waterproof Fabrics.






We also gained a promising position as a leading Manufacturer, Exporter and Supplier of a wide comprehensive range of products including Tarpaulin, HDPE (High Density Poly Ethylene) Fabric with LDPE (Low Density Poly Ethylene) Lamination on both sides, PVC Laminated Tarpaulin, Cricket Pitch Tarpaulin, Salt Spreader Covers, Cotton Tirpal Fabric, Waterproof Tarpaulins, Canvas Drop Cloth, PVC Coated Tarpaulin, Storage Tarpaulin, Fire Retardant Tarps, Cotton Tarpaulin, Nylon Tarpaulin, Tarpaulin Tents, Cotton Duck Sheet, Truck Cotton Tarpaulin, Tensile Membrane, HDPE and Synthetic Tarpaulins that are used in Trucks, Haulers, Cargo Fleets, Industrial Shelters, Food storage and various other generic applications.
Why We Are Different

Over the past many years, our company has remained the leading market player in the industry owing to many reasons. Equipped with modern machines and latest technology, we strictly adhere to international quality standards. Besides our regular products, we also offer Customized Tensile & Tarpaulin Products.

Worked for US ARMY at SHINDAND AIRBASE AFGHANISTAN for their Fabric Shelter for Mi-17 Helicopters, Working Area 1,00,000 (ONE LAC) Sqr. Feet. in 2010/11 Feb.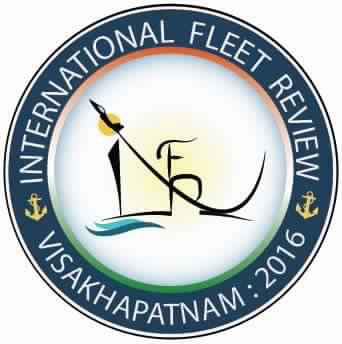 We have awarded with a appreciation letter from Indian Navy for making and installing two Retractable Roofs on Indian navy ships for International Fleet Review 2016.

The Hon'ble President of India being the Supreme Commander of the Armed Forces, once in his/her term, reviews the Indian Naval (IN) Fleet as part of the 'President's Fleet Review' (PFR). This review aims at assuring the country of the Indian Navy's preparedness, high morale and discipline.

International Fleet Review 2016 is an International Maritime Exercise hosted and conducted by Indian Navy on behalf of the President of India in February 2016. It's objective is to enhance mutual trust and confidence with neighbouring navies by inviting their ships to participate in the event. Indian Navy displayed its maritime capabilities to the foreign navies which have participated in the review.

This is the second International Fleet Review conducted by Indian Navy after IFR 2001 at Mumbai in which 29 navies participated. Over 50 navies and about 99 warships participated in the review.

The review was done from 4 to 8 February 2016 in Visakhapatnam. The event was organized by Eastern Naval Command of Indian Navy.




Our Team

We believe that in today's global market, Teamwork is most important aspect where quality and productivity is well balanced. With our dedicated and well experienced team members we are the leading suppliers of Tensile Structures Industry.

We always strive to satisfy our customer's requirements and have implemented a Quality System to be sure our high standards of workmanship are always maintained.

Our philosophy is to provide personalized services and complete customer satisfaction.
Our Products
Our Commitment

To be the Best Tensile Structure and Fabric Structure Manufacturer in the World.
Our Imagination

We design and build all type of Tensile Structure, our team is able to offer a full range of services from concept design, detail design, load analysis, contract document preparation to project management, contract supervision and control, thereby ensuring that our clients receive the best professional service.

We also offer Outdoor Shade, Shades Sails, Domes, Tensile Fabric Architecture, Tension Compression Structures, Indian Swiss Cottage Tent, Portable Security Guard Cabins, Tension Membrane Structure, Exhibition Hanger Cover Roofing Structures, Steel Structures, Marquee Tent, Outdoor Tents, Camping Tents, Waterproof Tent, Roll Up Banner Stands, Advertising Canopies, Modular Tensile Membrane Structures, Prefabricated Steel Structures, Prefabricated Housing Structures etc.
Benefits Of Tensile Structures

Tension structures are fabricated as permanent or temporary canopy structures for commercial or public assembly, temporary event structures, modular industrial construction and landscape artwork. This unique fabric canopy strives for a light and airy look by minimizing the amount of framing and utilizing the strength of the fabric to help support the stability and equilibrium of the structure.


Fabric tensioned structures are typically used as a lightweight roof, protective cover, shelter, skylight, advertisement and/or identification for stadiums, arenas, shopping malls, amphitheaters, bandshell, stage cover, tents, and shade structures for airport and transportation depots.


Tension structures utilize technical fabric roof membranes, a combination of catenary cables and clamping systems, and a minimal amount of framing to create proportionally lightweight structures capable of spanning great distances. Tensile membranes are available in exterior grade vinyl and woven fabrics and Teflon™ coated fiberglass. These translucent tensioned membrane structure fabrics carry from seven to twenty year warranties.
Contact Us If You are Looking for Below Mentioned Services
Cricket Pitch Tarpaulin Manufacturers | Auditorium Tensile Structures Manufacturers | Auditorium Dome Structures Manufacturers | Auditorium Tensile Shades Manufacturers | Walkway Covering Structures Manufacturers | Tensile Membrane Structures Manufacturers | Car Parking Sheds Manufacturers | Garden Tensile Structures Manufacturers in India.
Our Supply Network
Agartala
Andhra Pradesh
Arunachal Pradesh
Assam
Bangalore
Bhopal
Bhubaneswar
Bihar
Chandigarh
Chennai
Nagaland
Chhattisgarh
Orissa
Patna
Pondicherry
Pune
Punjab
Raipur
Daman
Dehradun
Delhi
Orissa
Gandhinagar
Goa
Gujrat
Guwahati
Hyderabad
Jaipur
Jammu kashmir
Kanpur
Rajasthan
Ranchi
Sikkim
Karnataka
Kerala
Kohima
Kolkata
Lucknow
Ludhiana
Rudrapur
Silvassa
Sri Ganganagar
Srinagar
Uttarakhand
Madhya Pradesh
Maharashtra
Meerut
Moradabad
Mumbai
Tamil Nadu
Trivandrumpuram
Tripura
Utter Pradesh
Varanasi
Agra
West Bengal
Dadra and Nagar Haveli
Daman and Diu
Lakshadweep
Haryana
Himachal Pradesh
Jharkhand
Manipur
Meghalaya
Mizoram